So the day is always as hard as it is long…
…and social media doesn't make it get any easier or shorter.
one quagmire I have with the process of creating the Tear's social media presence, as well as Distant Signal's, is not just content, but how to efficiently manage that content for the best amount of engagement and growth.
To make things easier, I've signed up for Later.com to help me with this task. It comes with a few features that makes scheduling new posts across several accounts much easier. My two favorite features are…
The calendar: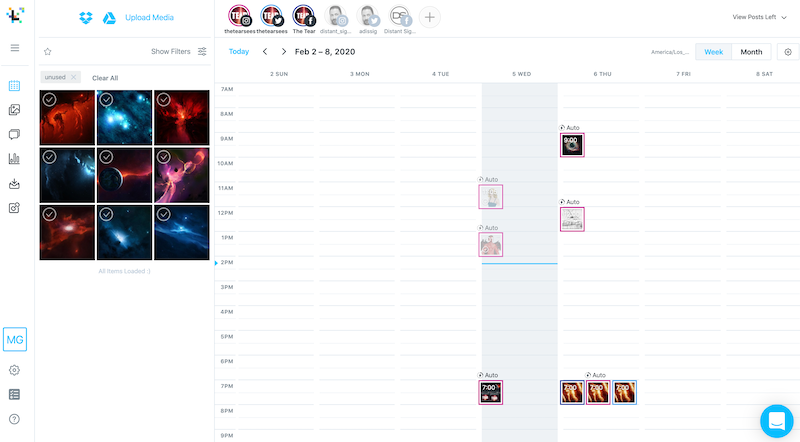 And…
Best time to post!
The right time to post has always been a huge black hole of information for me. I recently spoke to a social media consultant that has proprietary information like this, but he was far out of my price range. I couldn't reasonably spend 25% of my entire crowdfunding video's budget on this information.
The next best thing I could find was this feature on Later.com. Later will analyze my posts and as I move forward in the coming weeks, the site will supposedly tell me the optimum time to post for better engagement. What good is a post during a time that the majority of my audience is absent for? It would be a waste of time if I kept posting good content to nobody at all.
The better the engagement, the more followers I can aggregate and that's vital for reaching an audience beyond my friends, family and peers when it comes time to crowdfund.
Now, I know what you're thinking. I can hear you screaming "Content is king"!. You are correct, and I'm very far into the crowdfunding video and I think it's shaping up nicely. It's got a lot going on in it and I think will do the job we need it to do.
What if no one sees that pitch video though!? It's a bit of a chicken and the egg problem. I can't have an audience without the video but the video is useless without an already built in audience.
Finally, another good tool they have, and many of these types of services do, is the hashtag generator and relevance meter.

The trick is to NOT use the hashtags that everyone else is using, so even though the relevance might be 99%, posting into a hashtag that has over 150 million posts is probably going to be a waste of time because your post will get buried beneath a ton of content. You have to choose a tag that is relevant, but it also has to be underutilized to get noticed by Instagram's algorithms.
Unfortunately, there isn't an option for Steem on any of these types of services. Maybe in the future.
The downside to all of this, the agony if you will, is that I'm going to have to set aside a prescribed amount of time everyday to make sure that my social media posts are scheduled out long in advance with interesting content. If all goes well, the ecstasy will be my growing audience.
I'll let you know how it goes, but I'm hoping this helps me manage the plethora of social media accounts and make me make the most of my accounts so that when the time comes to crowdfund, I can reach the audience we need.
---
Continue the discussion on Distant Signal's forum's. Powered by Steem!
---
CHECK OUT THE TEAR!
The Tear is my cosmic horror short film and cinematic universe.
http://bit.ly/tearlinks
———————————