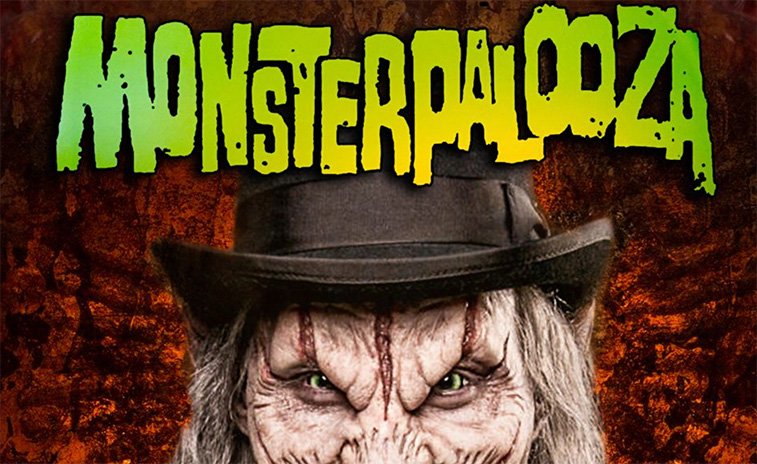 JOIN US
Come one, come all! Join the tens of thousands of ghouls, ghosts and their fans. Enter the world of MONSTERPALOOZA, a horror / Sci-Fi convention that has taken place in Los Angeles since 2009.
I'm not a huge convention goer, although I used to grace Star Trek conventions with my presence. It's not an aspect of myself I've given a lot of reflection on. Maybe it's because I'm too busy, or maybe it's because I don't want to appear too much of a fanboy. Too late, I suppose.
Either way, when I heard about Monsterpalooza, I knew I had to go. Despite the derth of horror or death metal memorabilia populating my wardrobe, I'm actually a fan of horror. Sci-Fi is my real jam, but I love watching horror films. My favorite – John Carpenter's Thing – is definitely a cross of both and it is a thing of beauty.
ENTERING THE CONVENTION
Speaking of The Thing, I saw this painting right as I entered the initial areas of the convention. I wanted to drop $800 RIGHT THERE, but I couldn't… 🙁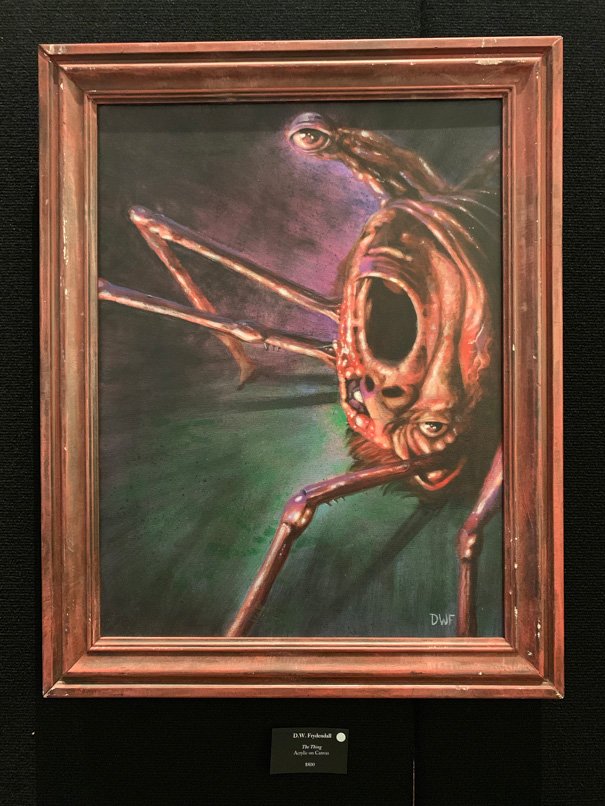 I wanted to not only enjoy myself, but hopefully find some artists and technology that I might be able to employ on #Changelings. There were companies presenting different forms and brands of stage blood, gelatin molds, skin transfers and computer modeling.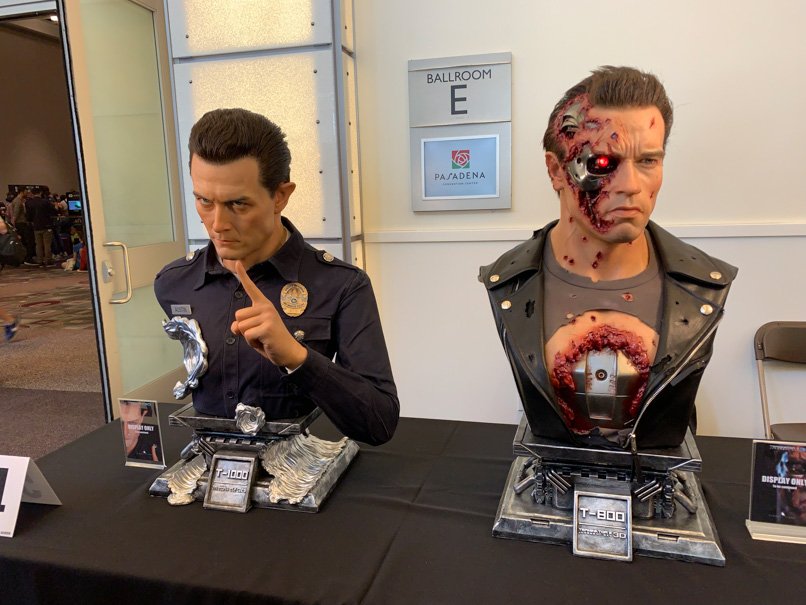 The real treasure – in my opinion – were the artists of horror and sci-fi films that brought the convention to life. Mask designers, Stan Winston's Workshop, conceptual artists, manga artists, you name it, they were there. Just look at the detail and realism in these Terminator 2 bust recreations! Spectacular work.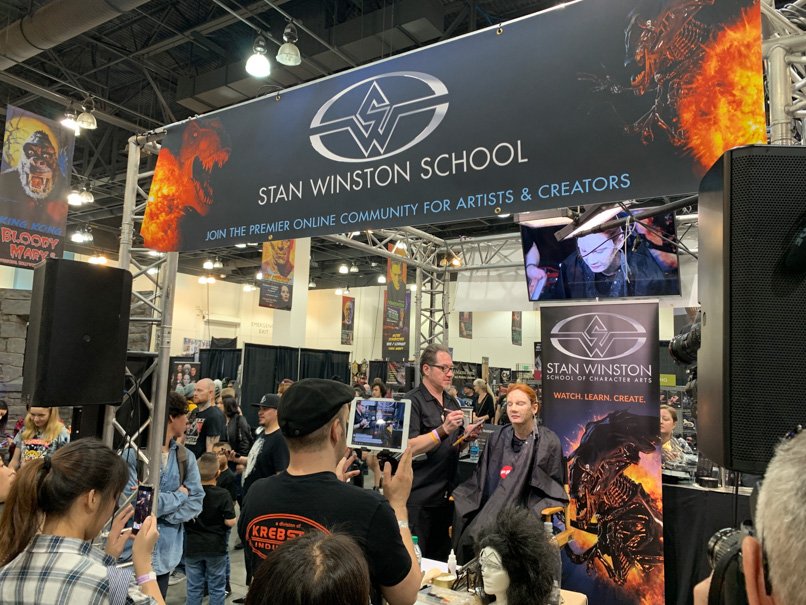 Not sure if you can see it, but there's a live makeup demonstration happening inside the Stan Winston booth. There were about a dozen or so different companies and individuals performing these types of live makeup applications. Some were extremely intricate and represents some of the best makeup I've ever seen up close.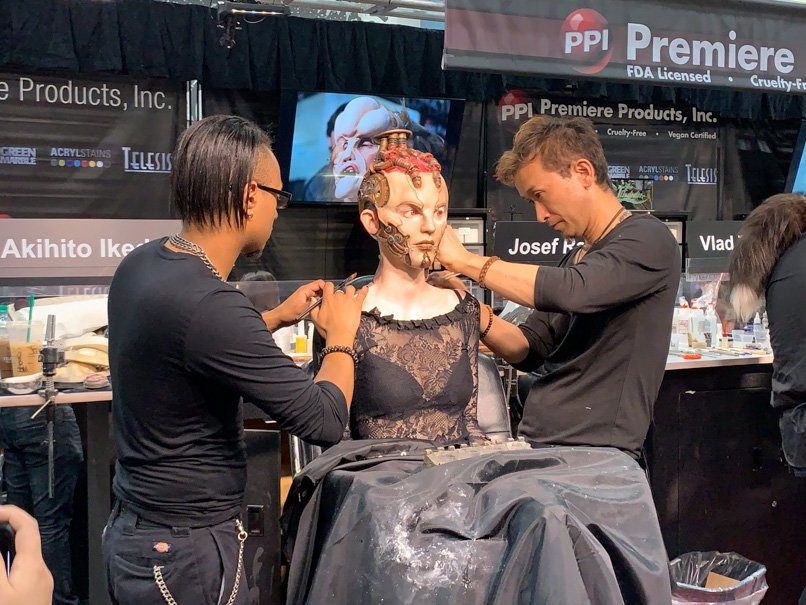 Being around all this talent and gore got me all fired up for Changelings! It was like being a kid again and it reminded me about the magic films possess. All those people were there to get closer to the stories and effects that inspired them or brought joy into their lives.
Horror and sci-fi aren't for everyone. These genres draw artists to them in a way that other genres don't. There is so much care and detail in these artifacts of dreams and nightmares that it becomes clear very quickly that the artists are fans as well. Like me!
THE MUSEUM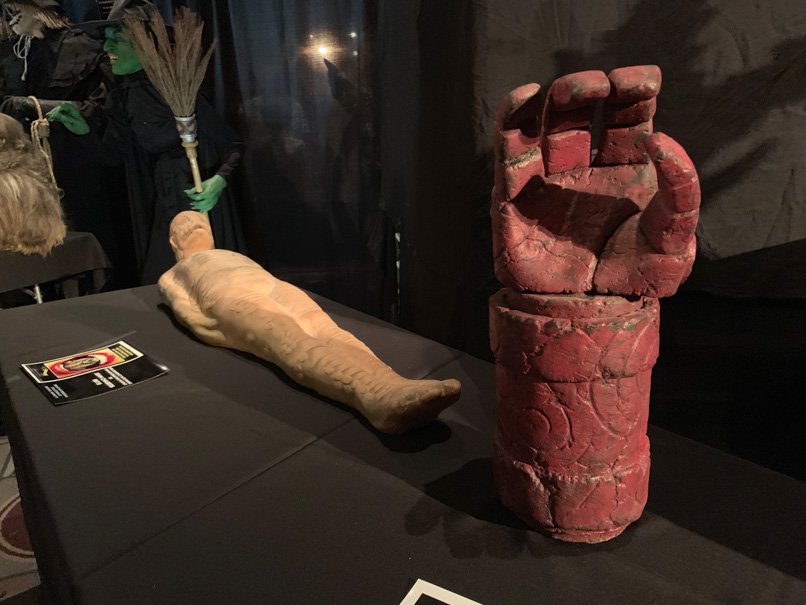 One section of the convention was called the Museum. A self guided tour through an area packed with original props, prosthetics, masks, models and life sized animatronic beasts!
That Hand of Doom from Hellboy is from the film! It's really cool looking up close and as big as it looks. The sasquach creature is from a film called Primal Rage.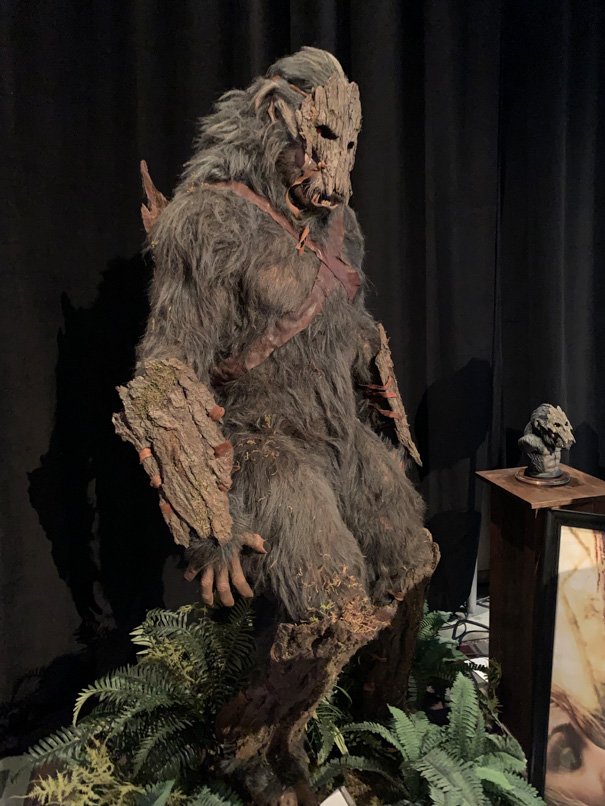 If there are any Rocketeer fans out there, here is a full sized – I think recreation – of the X-3 jetpack! If you haven't seen that film, I highly recommend it. It's one of Disney's best adventure films.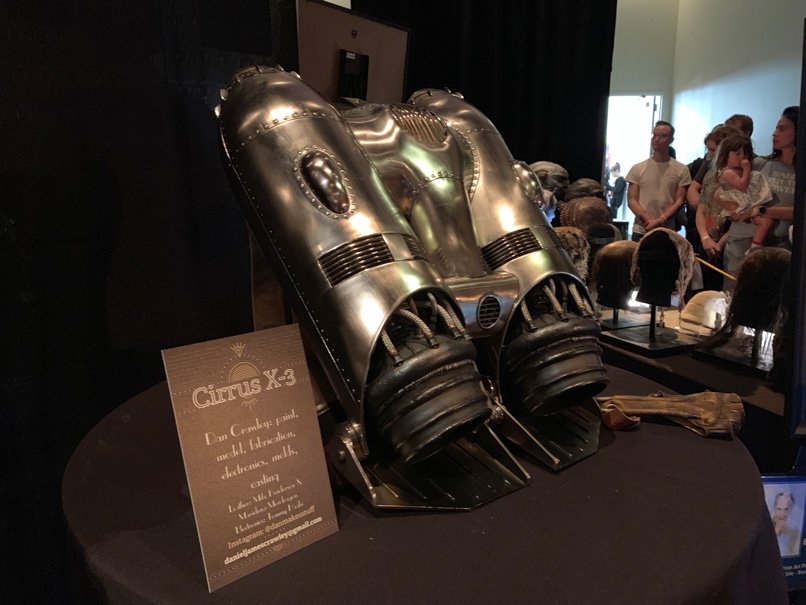 The monster below was about 10 or 12 feet tall. It was an intimidating monster and nothing like I'd ever seen. I don't remember where it's from, but I want it in my bedroom.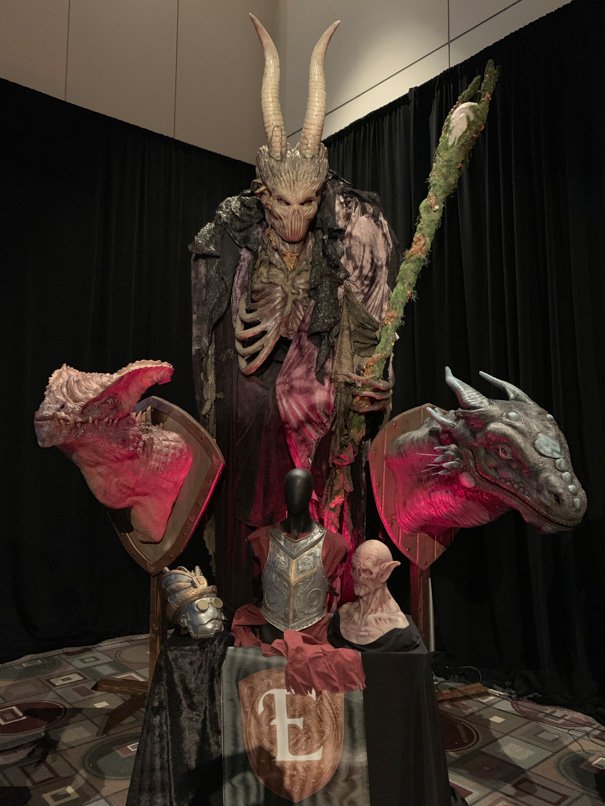 The last fun bits of The Museum was this display for Strange Nature. I had just watched the film on Amazon.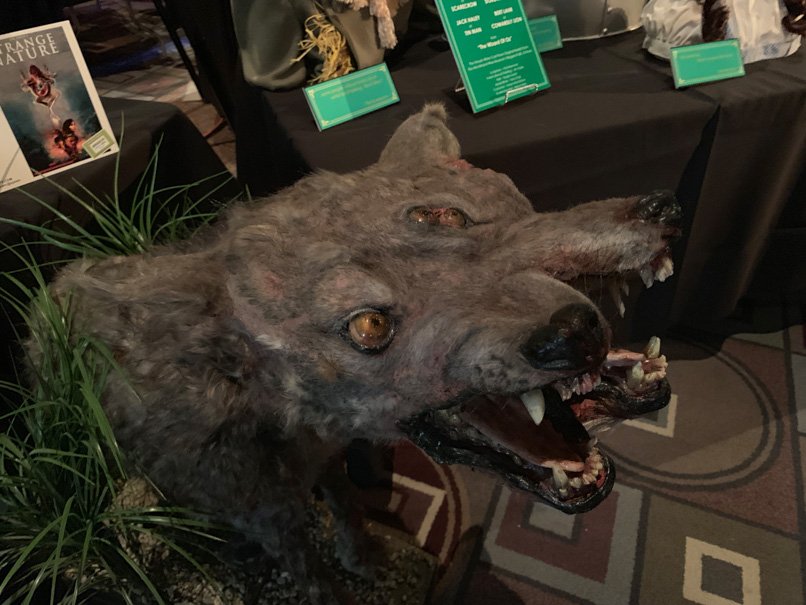 It was an alright film, but I did love the effects and concepts behind them. It's a bout a town that experiences extreme mutations in the wild animal populations due to chemical contamination. There might be a few mutant humans in there as well. They were gross… which is awesome… which I also recognize as being paradoxical.
ODDS AND ENDS
And it wouldn't be a monster convention without some Alien paraphernalia. The large egg was wonderfully detailed and glistened like a living organism. The coloring was really interesting. They were more leathery and less like like soft, wet flesh, which is more typical in the films. Judging by the Alien symbol, I'm going to guess it was related to Alien 3. I took this picture on the run so I didn't get any additional details on the pieces.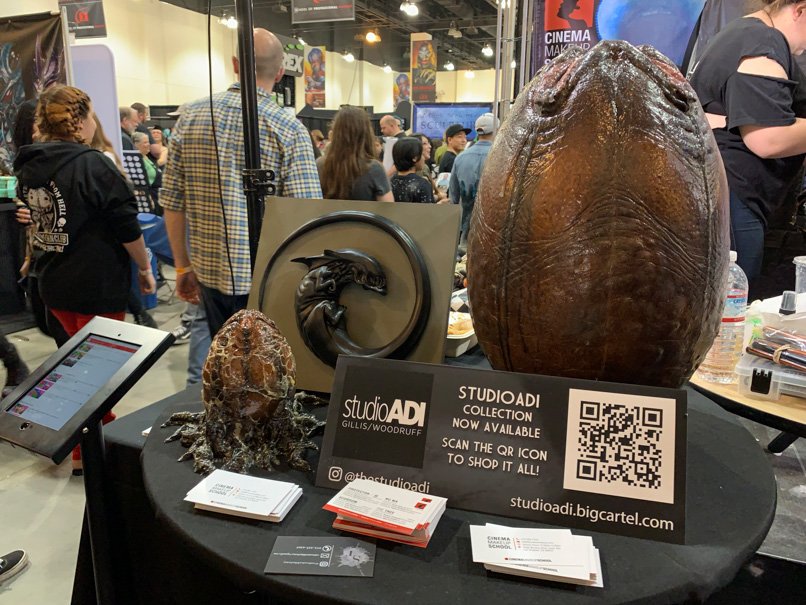 My little nod to The Fly. I want this thing in my living room so that I can talk to it when I'm bored.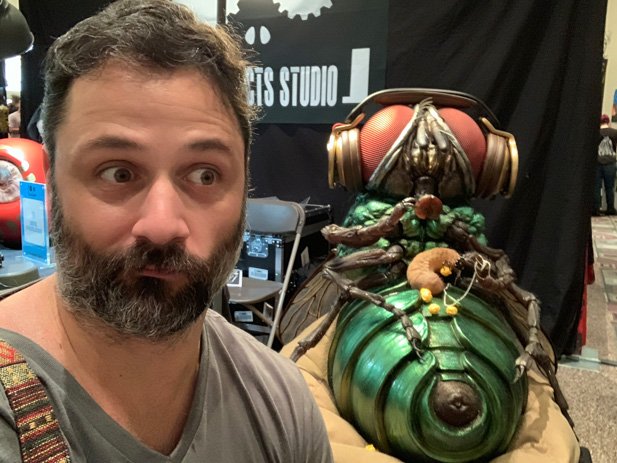 A classic line up of Freddy, Chucky, Tiffany and The Crypt Keeper!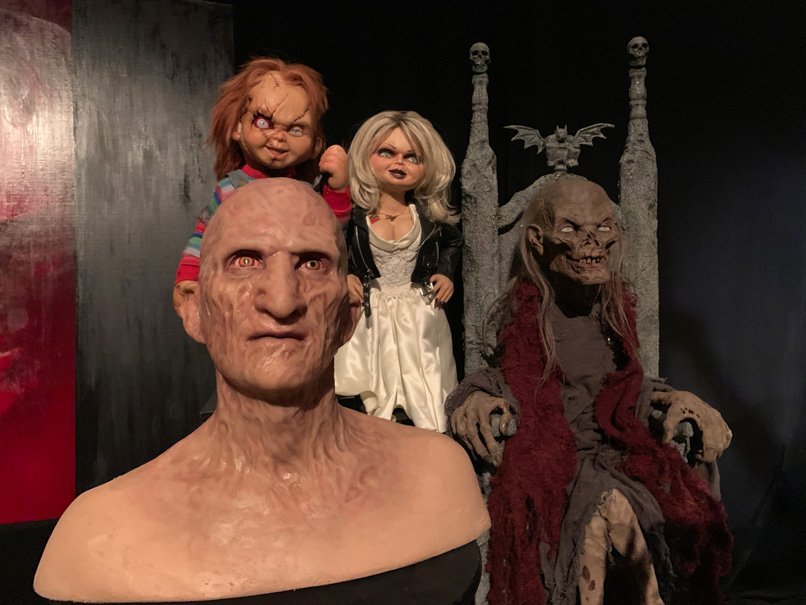 As I said earlier, one reason I was there was to learn a little bit about the quality of special effects today. The convention did not disappoint! Look at the realism in that silicone tongue! If even felt real. The faces were incredibly realistic. This vendor also sells a gelatin based mold substance. Gelatin is excellent for melting effects, like if I wanted to melt a face off on camera, I'd use gelatin. Pretty cool stuff.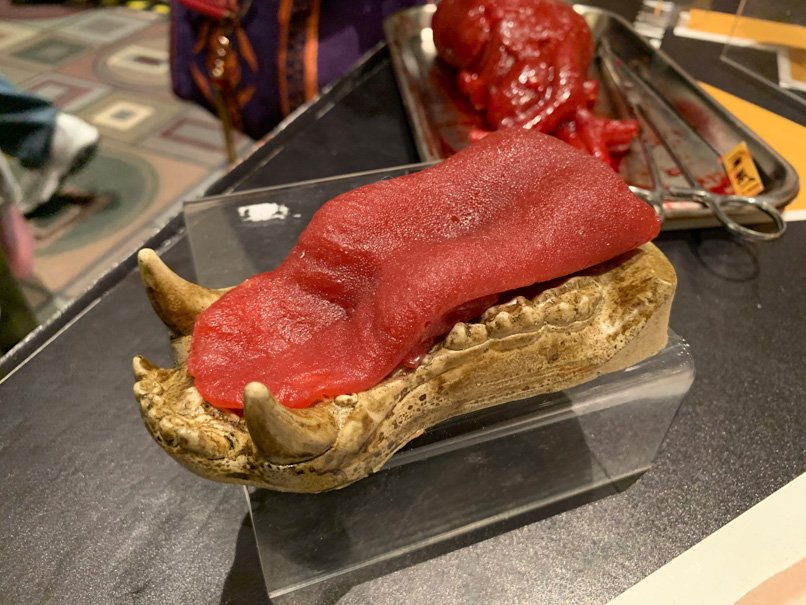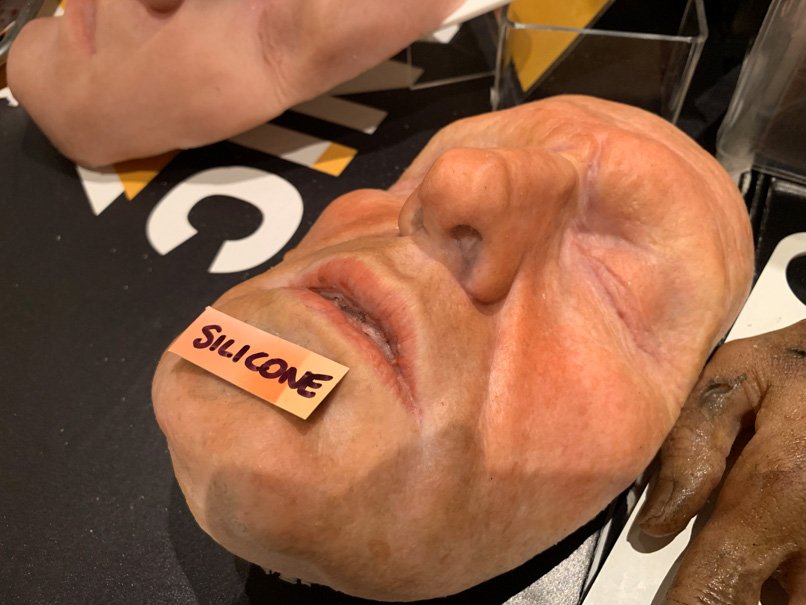 FRIENDS
Best of all I got to see some friends! Chelsea Stardust is a horror director who just finished her second horror feature! I remember when she was a wee – but also tall – assistant over at Blumhouse. She's come so far and I'm so excited for her.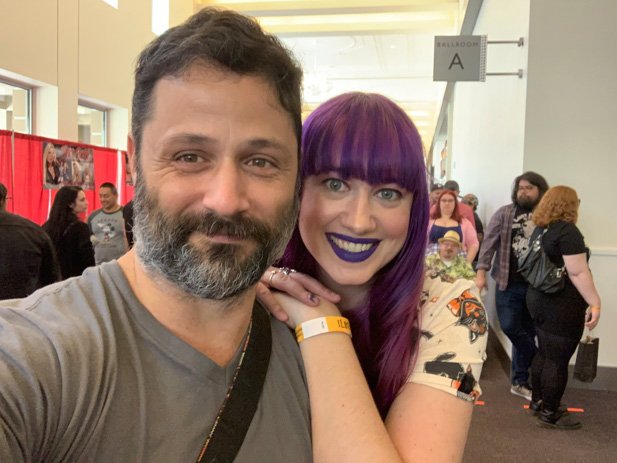 I also ran into Zane, who has been helping me out on the special effects for Changelings! It was great seeing him in his natural environment. He's got a lot of talent and I think he's going to go far as a special effects artist if he keeps chugging along.
There are more photos to share, and I'll put some up later one, but I think I've taken enough of your time.
Going to Monsterpalooza was an inspiration and I recommend going if you can do it. It's not that expensive to attend.
Phil out